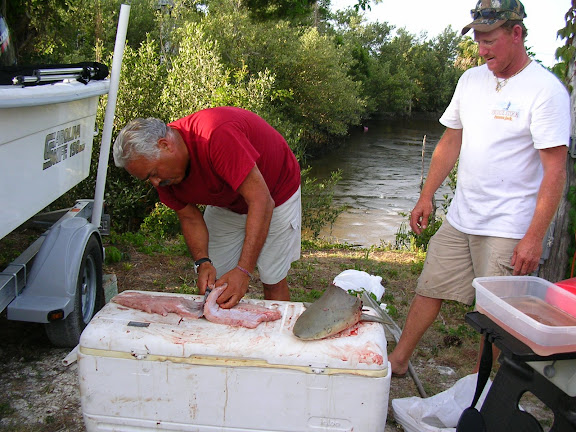 auf einem Campingplatz in Ceda Key so ziemlich am Ende der Welt haben unsere Campingnachbarn einen Haifisch gefangen und Gino hilft beim filetieren
Welcome to Cedar Key!
Visit us in the Heart of Florida's Nature Coast, a recreational paradise. We are a small, relaxed, island community located three miles out in the Gulf of Mexico. Rich in small town flavor, it is said Cedar Key is the Island community where time stands still. Cedar Key is located on Way Key, the largest island in the "Cedar Keys".
The Cedar Keys make up one of the oldest bird and wildlife refuges in the United States. With its rich history and natural beauty, you may not want to leave!
About Cedar Key...
Cedar Key is one of the oldest ports in the state, and when Florida's first railroad connected it to the east coast, it became a major supplier of seafood and timber products to the northeast. Today it has become a haven for artists and writers who find the unspoiled environment inspirational to their work. Many people visit each year to walk the historic streets browse the shops and galleries, explore the back bayous and enjoy the world-famous restaurants featuring seafood fresh from local waters. Annually, thousands of visitors come to enjoy the Old Florida Celebration of the Arts in April, the Fourth of July Celebration and the October Seafood Festival.
In addition to excellent fishing, birdwatching and nearby nature trails, guides are available to take parties for off-shore trips to the outer islands. A public marina with boat docking is available.
Federally protected sanctuaries, the Cedar Keys form a chain of barrier islands ideally suited to a vast range of migratory and shore birds, including the elusive white pelican, roseate spoonbill and bald eagle. The variety of natural habitats, from salt marshes to Indian shell mounds, makes this truly a nature lover's paradise.